Each year the Lotte Reiniger Lifetime Achievement Award will reward an individual in recognition of their lifetime contribution to the art of animation in either producing, directing, animating, design, writing, voice acting, sound and sound effects, technical work, music, professional teaching, or for other endeavors which exhibit an outstanding contribution to excellence in animation.
The recipient of Lotte Reiniger Lifetime Achievement Award is elected by the Board of the European Animation Awards.
For the very first year, the EAA Board members have decided to reward Canadian-British Animator-Director Richard Williams for his entire career achievements.
Legendary animator, Richard Williams is the animation director of the multiple times awarded Who Framed Roger Rabbit, and the director The Thief and the Cobbler. He also wrote 'The Animator's Survival Kit', often considered to be the animation bible among animators in training.
Richard Williams will receive his trophy from Peter Lord, Chairman of the association and the entire EAA Board Members team during the Emile awards ceremony.

About Richard Williams  
Triple Oscar winner Richard Williams, voted by his peers as 'The Animators' Animator' in the Observer has won over 260 international awards including 3 British Academy Awards and an Emmy Award.

His films include Who Framed Roger Rabbit for which he won two Oscars, The Return of the Pink Panther, Oscar winning A Christmas Carol, The Little Island and The Charge of the Light Brigade.

With his international Masterclasses, his best-selling book 'The Animator's Survival Kit', his 16 DVD box-set and an iPad app he has trained many of today's top animators.

His unfinished film The Thief and the Cobbler was digitally reconstructed in 2013 by the Academy of Motion Picture Arts and Sciences and he was honoured with an exhibition of his artwork at their headquarters in LA.

His most recent short film is Prologue (2015) produced by Imogen Sutton and was nominated for an Oscar and BAFTA. He is currently animating his new film.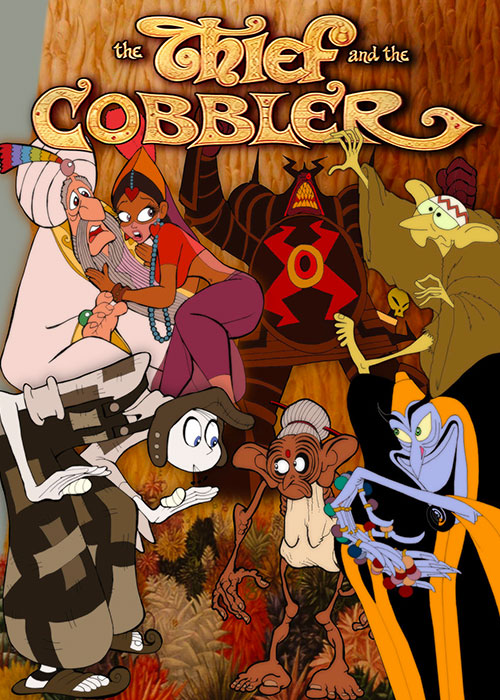 THE THIEF AND THE COBBLER
The unfinished masterpiece will be screened on December 7th at 8pm at:
Le Fresnoy, Salle Renoir, 22 rue du Fresnoy, Tourcoing
Screening will be followed by
Q&A's with Director Richard WILLIAMS and Peter LORD (EAA Chair)
The discussion will be animated by Alexis Hunot & Olivier Catherin
Free entrance (subject to availability)
Synopsis :
A lowly Cobbler and a Thief are entwined in a daring adventure to save a Golden Land from an evil Grand Vizier and a One-Eyed army helped by a Princess and a mad Witch. Loosely influenced by Persian miniatures , the film has become a legend in the animation industry.
This digital reconstruction of the work print of "The Thief and the Cobbler : A Moment in Time" is courtesy of the Academy of Motion Picture Arts and Sciences and the Academy Film Archive.